A demon is what they call a goddess that men cannot control.
Frozen meets Mad Max in this epic teen fantasy duology bursting with star-crossed romance, immortal heroines, and elemental magic, perfect for fans of Furyborn.
Generations of twin goddesses have long ruled Aeon. But seventeen years ago, one sister's betrayal defied an ancient prophecy and split their world in two. The planet ceased to spin, and a Great Abyss now divides two realms: one cloaked in perpetual night, the other scorched by an unrelenting sun.
While one sister rules Aranth—a frozen city surrounded by a storm-wracked sea —her twin inhabits the sand-locked Golden City. Each goddess has raised a daughter, and each keeps her own secrets about her sister's betrayal.
But when shadowy forces begin to call their daughters, Odessa and Haidee, back to the site of the Breaking, the two young goddesses —along with a powerful healer from Aranth, and a mouthy desert scavenger —set out on separate journeys across treacherous wastelands, desperate to heal their broken world. No matter the sacrifice it demands.
Thank you Caffeine Book Tours for providing me with an advanced reader copy in exchange for an honest review.
The Never Tilting World
was published on October 15, 2019 and available on
Amazon
,
Book Depository
, and other book retailers.
---
what is it about?
The Never Tilting World follows the story sets up in the land of Aeon, seventeen years after an incident between the goddesses who caused the world to stop spinning and leave two separated realms as the result. The one is Aranth, cloaked in endless nights and stormy sea, while the other is Golden City, scorched by the unrelenting sun and burning desert. Odessa, the daughter of Asteria who ruled Aranth, suffered from a mysterious disease yet firmly believed that her power is coming and she could save the dying world. Accompanied and guarded by Tianlan, a healer/warrior who suffered from PTSD after surviving her previous mission, they both headed o the Great Abyss. On the other side of the world, Haidee, the daughter of Latona who ruled Golden City, interested in everything mechanic-related, crossed her path with Arjun, a nomad amputee, and they also both headed to the site of the Breaking.
---
what do I think about it?
The premise sounds a bit controversial in my opinion, but I couldn't help but wonder what could I expect from a story that pitched as Frozen meets Mad Max? Although I feel decent about Frozen (yet you might find me humming Let It Go on random moments), I'm a massive fan of Mad Max and its terrifying world. And I'm glad to tell you that the universe of Aeon that Chupeco brings into papers, is very much a resemblance to those two contrast universes.
The elders would tell us how the Sun Goddess Latona had ripped the sky in two and feasted on her twin sister's heart, dooming us to a lifetime of wasteland because she could not stop craving the light. We were born hating them. We had every reason to.
Dare I say that I just want to stan Chupeco for delivered such an original universe full of extraordinary beings and creatures that I could never imagine before. Although I was completely blown away by both of the realms in Aeon and I could sense all of the intriguing details that Chupeco tried to bring in this remarkable world, I often caught off guard by the inconsistency of the plot, resulting in unbalanced narratives. One scene might be full of action, people's lives are at stakes, and monsters are roaming around, but it ended abruptly and a bit too easily. I was craving for more explanation especially during these particular moments, yet it couldn't be fulfilled and it brushed off onto the next scene. Meanwhile, there were a lot of side stories that—yes, it was quite interesting—but they were overly explained and this led me into boredom.
People don't think much about the truth when the lies sound more interesting.
However, I truly enjoyed all of the characters featured in this story. The dynamics between Odessa x Lan and Haidee x Arjun are entertaining and fun to follow. Although I'm leaning more towards Haidee and Arjun just because I'm always a fan of snarky commentaries and witty banters (and enemy to lover, obviously), the evolving relationship between Odessa and Lan was also charming in its own way. I wish that the story also emphasized other characters more, especially Asteria and Latona, as I couldn't help but keep wondering about the history between the two. At last, I'm quite sure that there will be more answers and revelation regarding the history of the universe itself, the goddesses, and the twins on the sequel. And also, I couldn't end this review without giving Chupeco an appreciation for bringing such diversity of the disabled, the mentally ill (PTSD), and the queer (f/f romance) in this fantasy tale. I couldn't speak much about the representation as I'm not a part of any groups that mentioned previously, but I salute Chupeco for putting them all as the leads in her story!
---
what's the verdict?
---
about the author
Rin Chupeco has written obscure manuals for complicated computer programs, talked people out of their money at event shows, and done many other terrible things. She now writes about ghosts and fantastic worlds but is still sometimes mistaken for a revenant. She is the author of The Girl from the Well, its sequel, The Suffering, and the Bone Witch trilogy.
Despite an unsettling resemblance to Japanese revenants, Rin always maintains her sense of hummus. Born and raised in Manila, Philippines, she keeps four pets: a dog, two birds, and a husband. Dances like the neighbors are watching.
Author website | Goodreads | Instagram | Pinterest | Twitter
---
wallpapers
Desktop Wallpaper • Phone Wallpaper
---
pin this post!
---
tour schedule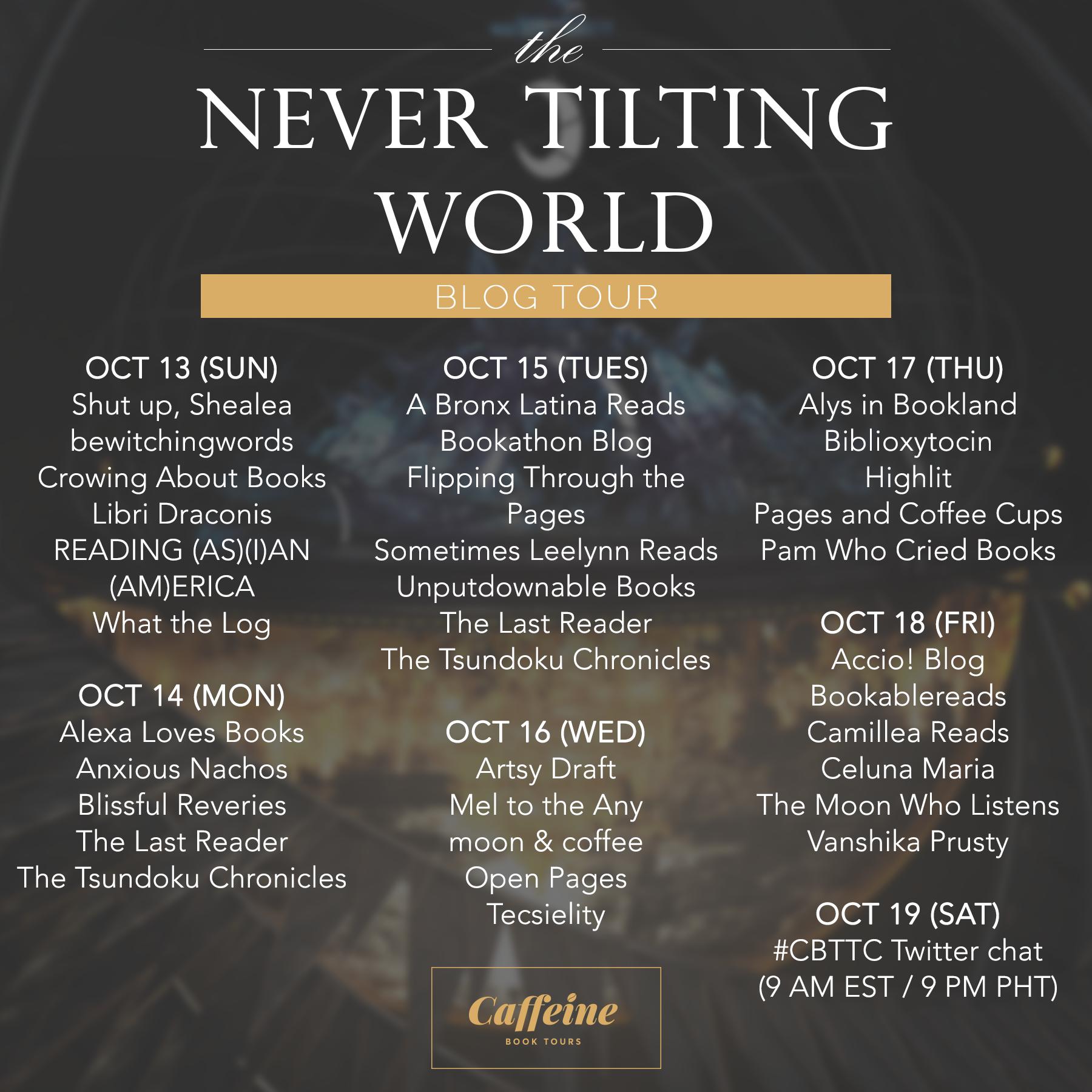 ---
twitter chat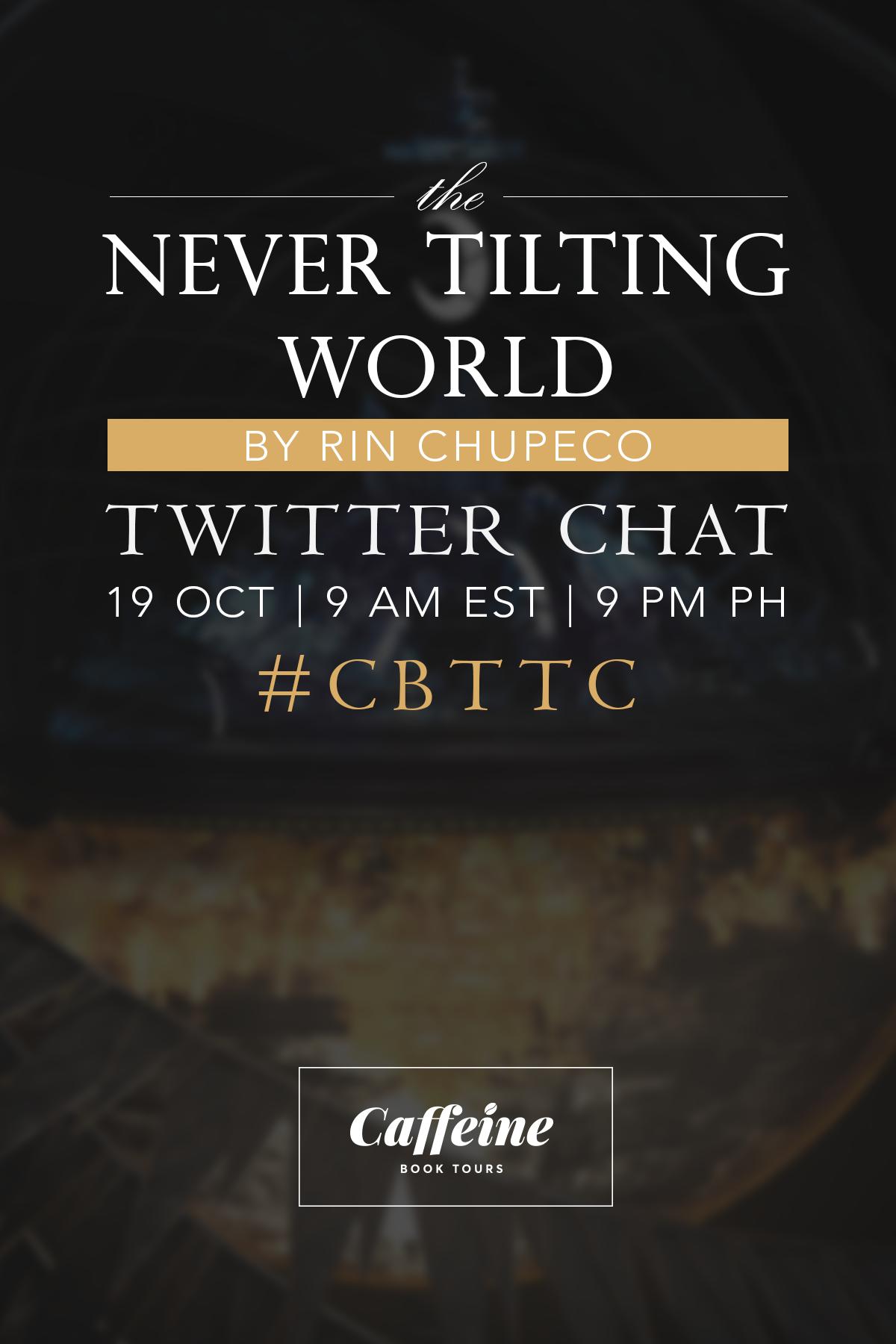 ---
giveaway
a Rafflecopter giveaway
https://widget-prime.rafflecopter.com/launch.js
Have you read any of Rin Chupeco's books before? Are you thinking about adding The Never Tilting World to your next reading list?